So, I figured I would start with a Sissy classic. Fondue. Was your favorite meat or cheese? It doesn't really matter, she almost always made both. My cousin Jennifer said it best, "There wasn't just one pot of fondue going, there was two. Just to make sure everyone was happy :) I would love to know how many loaves of bread she cooked between the fondue and her dressing." I'm sure the bread thing doesn't make sense to you now if you've never had Sissy's fondue, but keep reading. You shall be enlightened...right before we fatten you up. You look hungry.
fondue pot


Go get out your fondue pot. Really. If you don't have one, purchase one. They are about $20 and they come with the forks. You're going to need those for the cheese version. Using a fondue pot is the best way to make this because the temperature stays even, plus you can serve in it. The fondue is meant to be eaten warm, although there were plenty of times when we had the leftovers heated in the microwave from a Country Crock Margarine container. Remember those? Cheap "Tupperware". Our fridge looked like we had some kind of vegetable oil spread addiction. Nope, just Sissy bringing us food. It was a major score when you found the one with chicken and dumplings in it. Mmmm.
Okay, on to the recipes. There were two different versions available to us, meat and cheese. I'll start with the cheese since it's practically the base for the meat version.
Rhine wine and fondue forks
Ingredients: Cheese Fondue
1 Cup Rhine wine
1 lb Kraft Deluxe American cheese
1 (10 oz) can Ro-Tel tomatoes and green chiles-mild
Step 1: Simmer wine in fondue pot about 10 minutes, but don't boil it. Just let it bubble in the pot. My particular pot does this at a medium setting, but I have to lower the heat about 6 minutes in. This is where you learn about cooking slowly and patiently and staying with what you are cooking. I burned up a fondue pot once because I was being impatient and put everything on high heat. Sissy wrote notes for me in the original of this recipe. It would drive her crazy when I cooked on high. I know why now. She also told me to use a plastic fork so I wouldn't scratch the "Tefla" coating on my pot. You should do the same. ; )
Step 2: Add cheeses to simmered wine one slice at a time and stir each addition until melted.
Step 3: Liquify Ro-Tel in a blender or food processor. It will be sort of pink and frothy. Add to melted cheese.
Step 4: Serve with toasted garlic bread squares. (Remember the bread comment?) Yep, Sis would toast loaves of bread and chop it into little 1" squares for us to eat with our fondue. Sissy Hint: If your bread is really fresh, let it dry out some before toasting. It makes it firmer and easier to cut.
Ingredients:Meat Fondue
1 lb ground chuck, browned, drained, and crumbled
2/3 cup Burgundy wine
1/2 lb Velveeta Mexican cheese (mild)
1/2 lb Velveeta cheese
1 (10 oz) can Ro-Tel tomatoes and green chiles-mild
Step 1: (Assuming you have already browned your beef) Simmer wine as with the cheese fondue.
Step 2: Slice and add cheeses one piece at a time and stir until each addition is melted.
Step 3: Liquify Ro-Tel in a blender or food processor. It will be sort of pink and frothy. Add to melted cheese.
Step 4: Add meat and warm on medium heat until fondue is thickened.
Step 5: Serve with tortilla chips.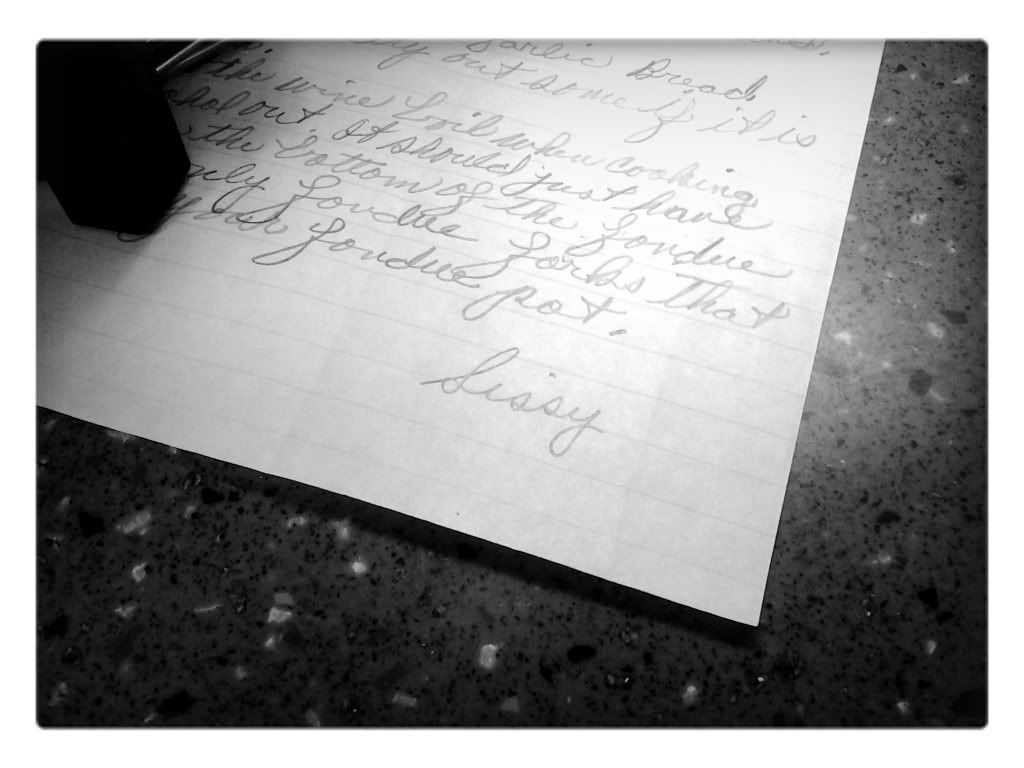 handwritten recipe
Again, these are meant to be served warm, but that never stopped us from spooning hunks of this meat fondue over tortilla chips right out of the fridge and microwaving it. Either dip can be re-heated in the fondue pot if there is any left. I remember us kids being crowded around waiting for more toast squares. I don't know how she kept up.
Speaking of keeping up, this is perfect football food. How many games do you think she was following at one time? Let's see...the radio and TV in the bedroom, the TV in the living room, the radios in the two guest rooms. That's five by my count. I distinctly remember some LSU and MSU players being called "TOADS," too.