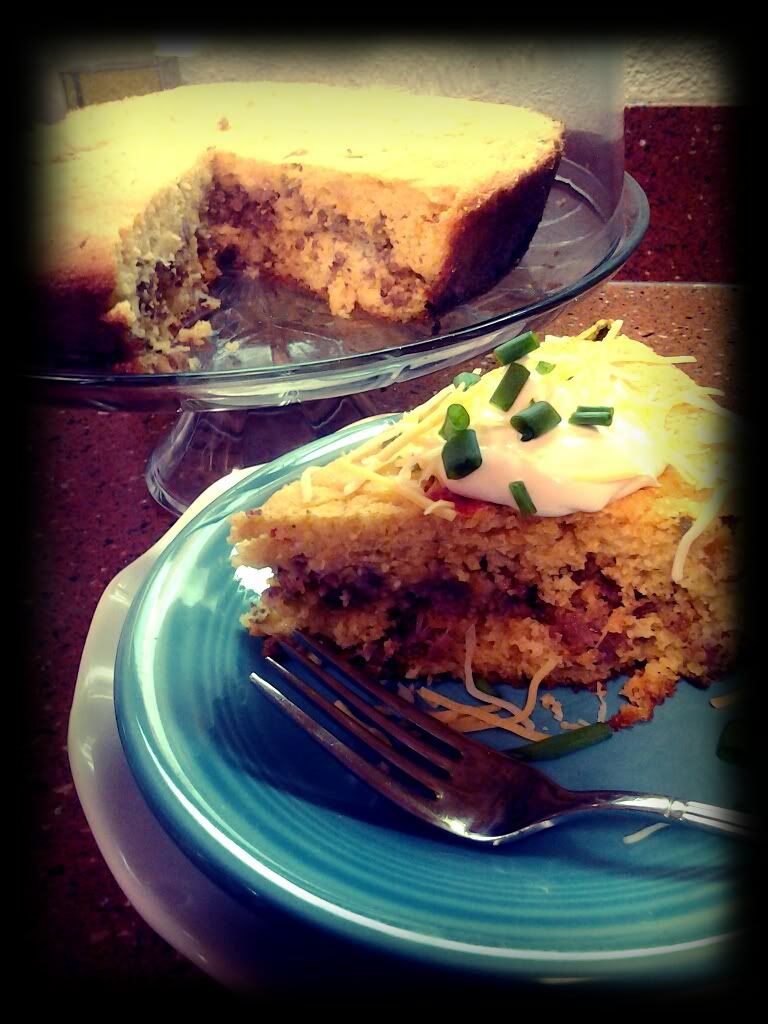 OH YES, Boys and Girls,
It's Mexican Cornbread time. When else would you have it but Taco Thursday? Another Sissy classic, this dish has it all. The preparation is a breeze and then you can pop it in the oven and have plenty of time for clean up while it bakes.
This may be cooked the old fashioned way in a seasoned cast iron skillet, or you may opt to bake it in a glass casserole. I baked mine in a skillet because I just happen to have a fantastic 10 3/8 inch glossy black, deep dish fryer that my brilliant husband picked up for $28 at an antique store. If you don't know about cooking in cast iron, I suggest you google how to season your pan with oil, before using it the first time. We always look for cast iron in antique and thrift stores because the older pans have completely smooth interiors, and the new ones have little bumps that just don't release the bread (or other foods) like they should.
Now, if you do have a seasoned skillet, you might already know this part if you've ever made cornbread, but I'll talk about it anyway for folks who might not. When you use the skillet, you put about a TB of oil in the pan and spread it all over the interior surface. I use a paper towel to spread mine. Put the oiled skillet in the oven while you are preheating it. When your batter is ready, you will pull out your HOT skillet and pour the batter in. When it's done, the bread releases like a dream.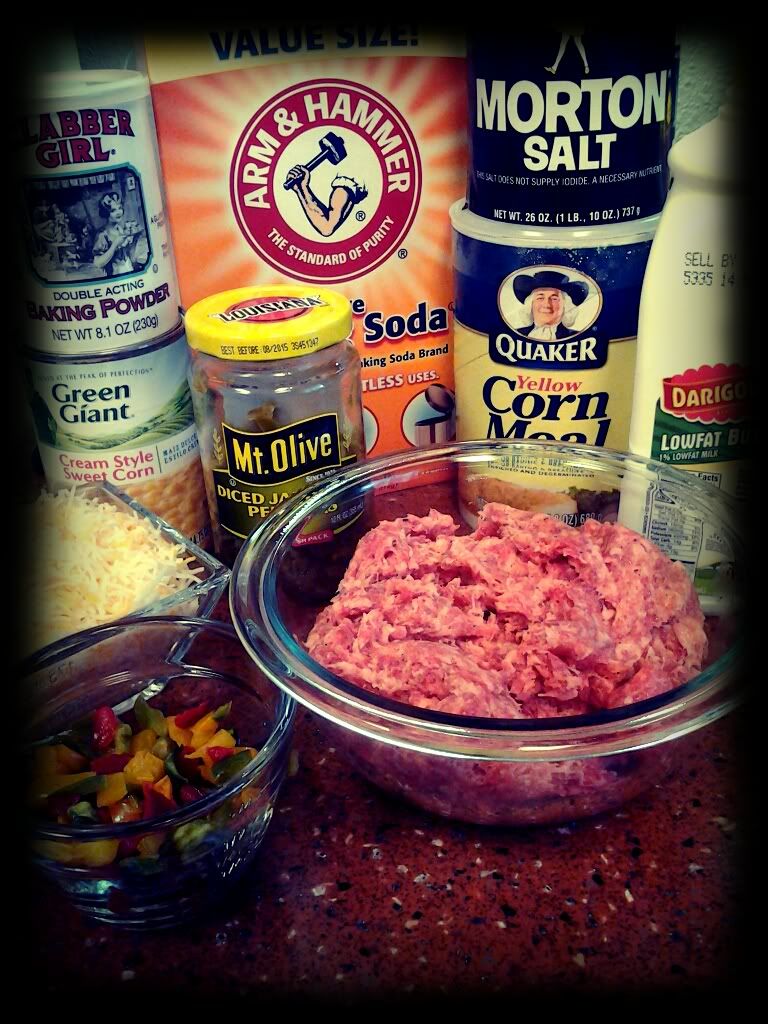 On with the show!
Here's the ingredient list for Mexican Cornbread.
Batter:
1 1/2 cup corn meal
3 tsp. baking powder
1/2 tsp. baking soda
1 cup buttermilk
1 can creamed corn
2 eggs
1 tsp. salt
3 TB chopped bell pepper
2 jalapenos chopped (I used 2 heaping TB diced)

Filling:
1 lb ground pork sausage, browned and crumbled
1 cup shredded cheese (cheddar or Mexi-blend)
Preheat oven to 425F. Now's the time to put your skillet in if you are using one. Brown sausage, drain, and set aside. Mix all batter ingredients. Take the HOT skillet out of the oven very carefully and place it on a heat resistant surface. If you are using a glass casserole dish (do not preheat), you need to grease it or spray it with a flour release like "Baker's Joy". Pour half of your batter in the pan, then spread the sausage and cheese. Pour the remaining batter on top and spread evenly. The original recipe says cook 45 minutes or until brown. In my oven it only took 32 minutes, and a few of the other recipes I found said 20-25 minutes. You should probably watch it, so don't get too distracted when you are cleaning the kitchen. ; ) If you smell the tasty, corn tastiness in the air, you should probably look at your bread. A knife inserted in the middle should come out clean if the bread is done.
After baking, let it "rest" and cool before flipping it out of the pan. I tasted mine while it was still warm, and I definitely liked it better after it cooled. Sis kept this one and broccoli cornbread in the fridge after she baked them. I chose to garnish mine with sour cream, green onions, and a little more cheese. This is hearty enough to be a meal alone, especially if you pair it with a fresh green salad and tomatoes.
A note about corn meal vs. corn meal mix. This recipe calls for corn meal AND powder AND soda. If you get corn meal MIX, you may omit the powder and soda. Little Martha White has been kind enough to add them for you. When people stopped making their own cake batter and started buying boxed ones from the store, they quit keeping staples like baking powder and soda in the home. I thought for the longest time baking soda was used for making things smell better. It never dawned on me you might actually bake with it.
Like the fondues, this cornbread usually got baked in pairs to keep everyone happy. Its partner is the broccoli cornbread I promised as a bonus, so here ya go! I won't be as detailed here, because now you are a cornbread expert and you can figure out how to pour the batter in the hot skillet.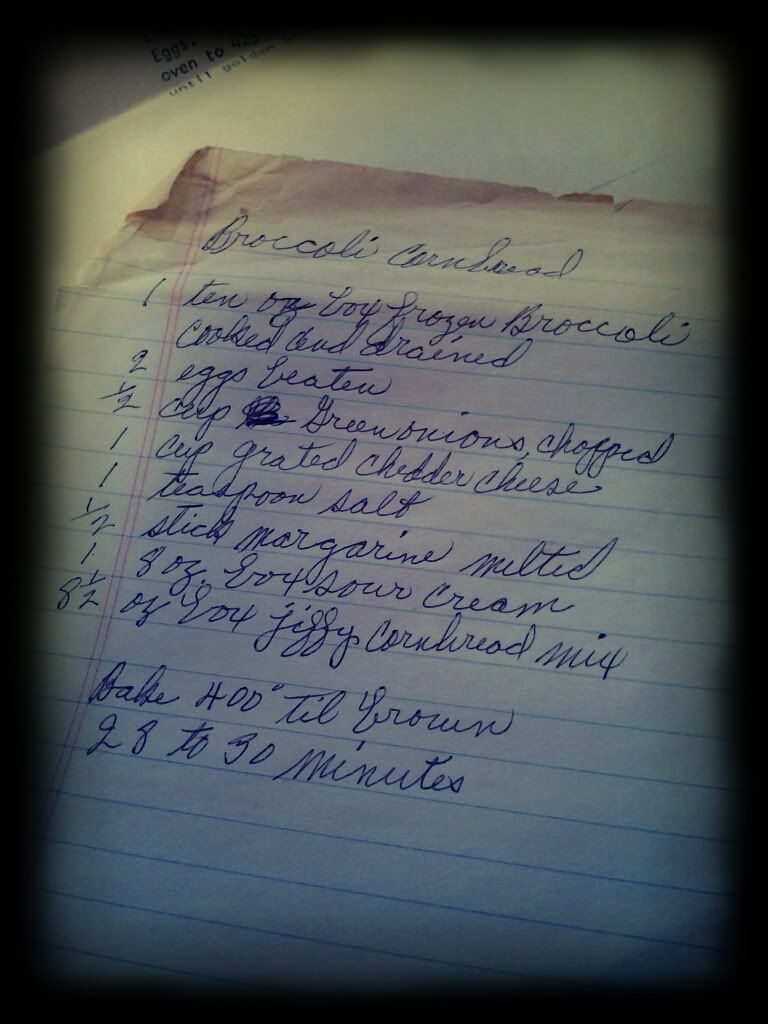 Broccoli Cornbread
10 oz frozen broccoli cooked and drained
2 eggs beaten
1/2 cup chopped green onions
1 cup grated cheddar
1 tsp salt
1/2 stick margarine melted
8 oz sour cream
8.5 oz box JIFFY cornbread mix
Bake at 400F til brown
28 to 30 minutes
This one is AH-MA-ZING with potato soup. I guess I'll have to find that recipe for you soon, but for now
you will have to hang out and wait for Buttermilk Cake with Mocha Chocolate Frosting, Swedish Meatballs, and maybe some Angel Biscuits.
Guess who will be doing two a days at the gym?! It's a sacrifice I'm willing to make for you. Okay, well for you and strawberry cake. That's my next recipe search. What are you hungry for?